Aristocratic Family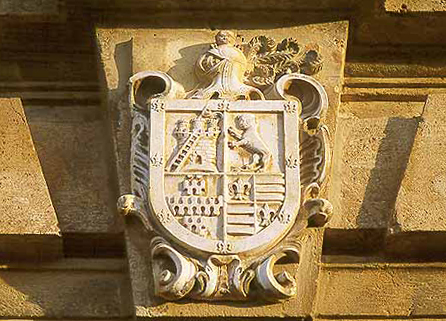 Escudo del Palacio de la Casa de Carmona
The Casa de Carmona ocuppies a XVIth century palace that has been in the same family – as far as we know – since it was built – and that has passed through inheritance successively, 7 times since the property registry of Carmona begun operations in the early 1800s. The propiertors listed in the registry of property were called Don Manuel de Quintanilla y Briones, his daughter Doña Maria del Carmen de Quintanilla y Melgarejo (Carmona 1798 + Carmona 20.08.1866), her daughter Doña María de Gracia Lasso de la Vega y Quintanilla (Carmona 08.12.1814 + Sevilla 05.06.1889), who married Pedro SOLIS Y DESMAISSIERES (born in Cadiz 1883), who became Teniente Hermano Mayor de la Real Maestranza de Sevilla, the highest aristocratic position in Seville, her daughter Miquelina de Solis-Beaumont y Demassieres y Lasso de la Vega, who bequeathed the palace to her grandchildren Ignacio Romero de Solis-Beaumont (b. 20.10.1937) VI Marqués de Marchelina and his 12 brothers and sisters, Teresa, Pedro, Jose, Matilde, Micaela, Diego, Angela, Reyes, Cecilia, Luis, Enrique y Gracia Romero de Solís-Beaumont.
The following picture represents a large, famous painting of the great uncle of Don Ignacio de Romero Osborne y Ruiz del Arco (b1903 d.1985), who married the owner of the Casa de Carmona palace, Miquelina de Solís y Lasso de la Vega, V Marqués de Marchelina- a painting which has been in the Romero de Solis family by descent.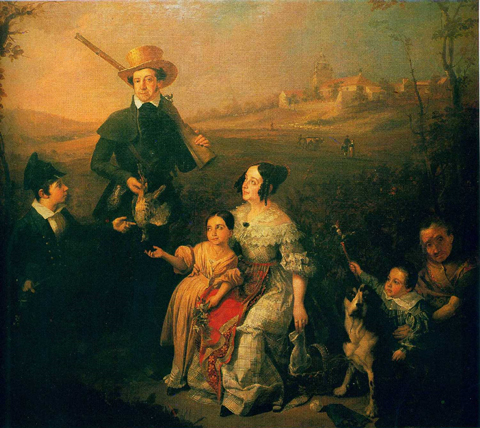 El Marqués de Arco Hermoso y su Familia, de caza en su Hacienda de San Jose de Buenavista en 1838
Don Jose Ruiz del Arco y Ponce de Leon (b.1793 d.1857), III Marqués de Arco Hermoso, con su esposa y tres hijos, criada y perro, 1er Alcalde consutitucional de Sevilla en 1935-36, en su finca la Hacienda de San Jose de Buenavista en Dos Hermanas, Abuelo de Don Ignacio de Romero y Ruiz del Arco (b. 1858 d. 1915), V Marqués de Arco Hermoso y III Marqués de Marchelina, que a su vez fue abuelo de Don Ignacio Romero de Solis, VI Marqués de Marchelina.
The Marquesado de Marchelina has the rank of "Grandeza de España", is a title given by Queen Isabel II on 25.09.1858 to Ignacio Romero y Cepeda, Ortiz de Abreu, Osorno y Fernández Landa, lived in Osuna, in the province of Seville, a member of the military recognised for his defense and conquest of Cartagena de Indias. The marquesado makes reference to the "Cortijo de Marchelina", in the municipality of Osuna, which was the property of the family.
Descending upon a fertile lineage that divvied up a vast wealth equally among their 3, 4, 5 children each generation, the VIth Marqués, had practically no income-producing inheritance to maintain a palace.
Himself the eldest of 10 children, he inherited the palace in pro-indiviso with together with his 9 brothers and sisters. Having no farm or business that would keep the family in Carmona, the family grew up in the 1940s and 50s in Seville, and some would even marry and live in Madrid. The palace was left mostly uninhabited and with scarce maintenance. Playing the part of the wealthy Marqués with his own prime palace was not a reality – the house was prime for a new story.
The sale: Ignacio Romero de Solís, and his 9 brothers and sisters, sold the house on plaza de Quintanilla nº1, and the square on which it sits – now called the Plaza de Lasso, to Marta Medina Muro Benjumea (b.1944), an aristocrat from Seville and childhood friend, on July 10, 1987, who bought it with money she had inherited from her successful architect father, Felipe Medina Benjumea, and incorporated it into a company, Casas de España, S.A. she then owned together with her second husband.
Marta Medina in 1994 sold Casas de España, S.A. to her son Felipe Guardiola Medina (b.1969), who has run the house since then.
Ignacio Romero de Solís now lives in Cadiz with María Medina Muro, sister of Marta and landscape architect of the Plaza de Lasso and the Arab Garden of the Casa de Carmona.
Marta Medina Muro lives in madrid and runs the Casa de Madrid, a 7 room bed and breakfast near the Palacio Real.
Felipe Guardiola Medina lives in and runs the Casa de Carmona, together with wife Reyes García, and children Salvador (b.2004), María (b.2006) and George Santiago (b.2010).

Shields of the Families that have owned the Casa de Carmona