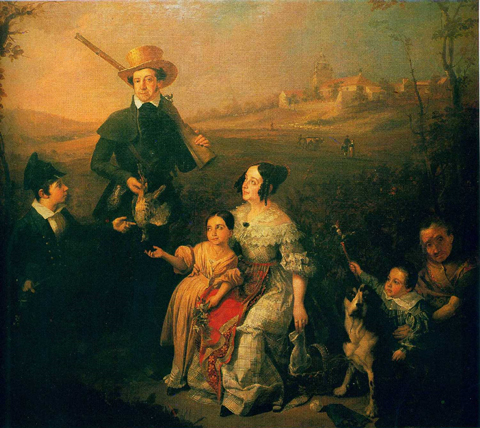 The Casa de Carmona ocuppies a XVIth century palace that has been in the same family – as far as we know – since it was built – and that has passed through inheritance successively, 7 times since the property registry begun operations in the early 1800s. The propiertors listed in the registry of property were called Don Manuel de Quintanilla y Briones ( , his daughter Doña Maria del Carmen de Quintanilla y Melgarejo (Carmona 1798 + Carmona 20.08.1866), her daughter Doña María de Gracia Lasso de la Vega y Quintanilla (Sevilla, Carmona 08.12.1814 + Sevilla 05.06.1889), her daughter Miquelina de Solis-Beaumont y Demassieres y Lasso de la Vega, who bequeathed the palace to her grandchildren Ignacio Romero de Solis-Beaumont (b. 20.10.1937) VI Marqués de Marchelina , and his 9 brothers and sisters, Pedro, Diego, Enrique, Matilde, Gracia,
Passed by descent 7 times: The first recorded transfer took place from one document ( a will) in which it was referenced this property, the now hotel Casa de Carmona, and 59 others. The successive transfer, it was that property and 57 others. Then 36 … and so on, until the last generation, Marques de Marchelina and his 9 brothers and sisters, now in their 60s, inherited it directly from their grand-mother.
The last owners: The Marqués suffered the ill fate of inheriting a palace, together with 9 brothers and sisters, with no land or other business to support it – for it had all been divvied up or sold un previous generations. Also, having no farm or business that would keep the family in Carmona, the family grew up in Seville and travelled. Finally, with nothing keeping them tied to Carmona, the palace was left mostly uninhabited and with scarce maintenance. Playing the part of the wealthy Marqués with his own prime palace was not a reality – the house was prime for a new story.
The sale: Ignacio Romero de Solís, and his 9 brothers and sisters, sold the house on plaza de Quintanilla nº1, and the square on which it sits – now called the Plaza de Lasso, to Marta Medina Muro Benjumea, a childhood friend, on July 10, 1987, who bought it with money she had inherited from her successful architect father, Felipe Medina Benjumea, and incorporated it into a company, Casas de España, S.A. she then owned together with her second husband.